Leonard Weisgard Introduces Modern Art
Leonard Weisgard and Margaret Wise Brown developed the first contemporary interactive concept books, putting them in the vanguard of innovators in several disciplines who re-imagined the picture book for young children. In the Here and Now titles, Weisgard pioneered modern approaches, reflecting such influences as Russian Constructivism, Surrealism, and Cubism. More specifically, Weisgard mirrored the works of E. McKnight Kauffer, Rene Magritte, Stuart Davis, and Henri Matisse.
Weisgard brought modern art to children's books, and Brown was the poetic muse. They benefitted by their associations with Lucy Sprague Mitchell and the progressives at the Bank Street School, collaboration with William R. Scott Publishing Company, and the 1930's avant-garde scene in art, music, and literature, as well as innovations in printing technologies.
Weisgard and Brown became key players in this golden age of the new American picture book, bringing children into the collaboration.
Read as PDF file: Picture Book Pioneer, Leonard Weisgard Introduces Modern Art by Melissa Reese Moye
About Melissa Reese Moye:
For thirty plus years, I have been a primary grade teacher, first in Charlottesville, Virginia, and now in Washington, DC. Wherever I have been, I have always found genuine happiness in being part of a school community. My real love is helping children to discover joy in reading by introducing them to a wide array of rich literature. Books really are at the heart of the classroom and bring us together as a community.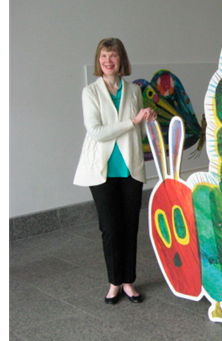 While completing my masters in children's literature at Hollins University in Roanoke, Virginia, I read Awakened by the Moon and The Golden Legacy, both by Leonard Marcus. These led me to the work of Margaret Wise Brown, a Hollins alumna, and to the many artists who collaborated with her. It was the art of Leonard Weisgard that captured my attention. As luck would have it, I was able to see many of his original illustrations when the Eric Carle Museum hosted "Magician of the Modern: The Art of Leonard Weisgard." I was intrigued not only by his exceptional art, but also his role as a pioneer in children's literature, creating new and innovative books for young readers. In the late 1930s, his art was modern, jazzy, and vibrant, unlike anything seen before in books for children.
Melissa Moye