We've created this website to share the artwork and achievements of our father Leonard Weisgard, author and illustrator of over 200 children's books. Enjoy!
---
The 2016 Carle Honors on Wednesday, September 28, 2016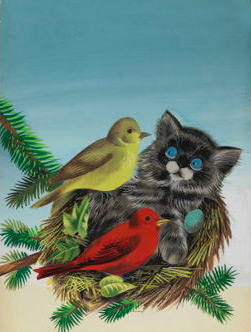 In the auction: Pussy Willow by Margaret Wise Brown [Weston Publishing Company, Inc., 1951] Gouache on illustration board
The 2016 Carle Honors will be awarded at Guastavino's in New York City. The eleventh annual gala and fundraiser will fête the talented people who have played an instrumental role in making children's books a vibrant and influential art and literary form in America.
Awards will be presented by Gregory Maguire, the author of three dozen books for young readers and adults and best known for his novel, Wicked. A reviewer for the Sunday New York Times Book Review, he taught at the Center for the Study of Children's Literature at Simmons College and cofounded the non-profit Children's Literature New England.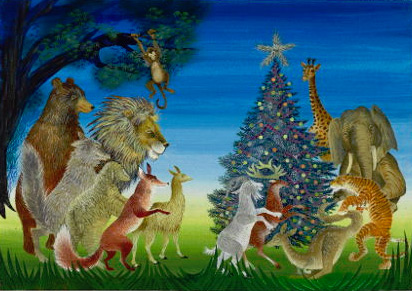 Cover illustration for THE GOLDEN CHRISTMAS TREE, 1988 which is included in the auction
Links to the two illustrations for bidding:
https://www.501auctions.com/carlehonors2016/item/255984
https://www.501auctions.com/carlehonors2016/item/255987
---
Whale's Way and Penguin's Way have been republished
by The Bodleian Library!
We are so honoured and excited about these two books republished by The Bodleian Library Oxford University. See them here:   See Penguin's Way here>>
See Whale's Way here>>
On-line review from The New York Times:
SUNDAY BOOK REVIEW | CHILDREN'S BOOKS
"The illustrations alone warrant this handsome new edition of Johnston and Weisgard's satisfying deep dive into the world of emperor penguins, first published in 1962. Weisgard's dappled print technique wonderfully evokes a snowy Antarctic clime, and his penguins are, true to their name, majestic." Read more: http://www.nytimes.com
Another on-line review from  "Books in my House"  (Blog post Tuesday 11th August 2015)
---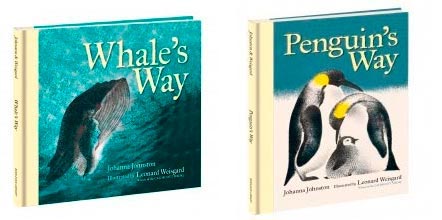 "Johanna Johnston was a renowned children's author based in the USA. She also wrote scripts for radio, including for the long-running children's series Let's Pretend, as well as children's stories, retellings of myths and children's history.
Leonard Weisgard was a Caldecott award-winning illustrator who published over 200 children's books. After studying illustration in New York he began a successful collaboration with the author Margaret Wise Brown as well as writing books of his own. He also worked with the American Library Association in the field of children's education" See more at The Bodleian Shop
---
Brave Baby Elephant – Piccolo Elefante Cresce
Brave Baby Elephant by Sesyle Joslin and illustrations by Leonard Weisgard was translated into Italian and has won the Andersen award in Italy for the best children's book in the category for 0-6 year olds May 2015.
Orecchio Acerbo  2015
Orecchio Acerbo Publishing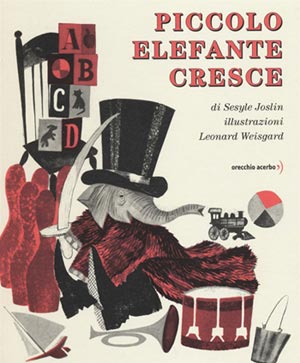 And now Baby Elephant Goes to China is out in Italian!
Orecchio Acerbo publishing
http://www.orecchioacerbo.com/editore/index.php?option=com_oa&vista=catalogo&id=456&Itemid=68