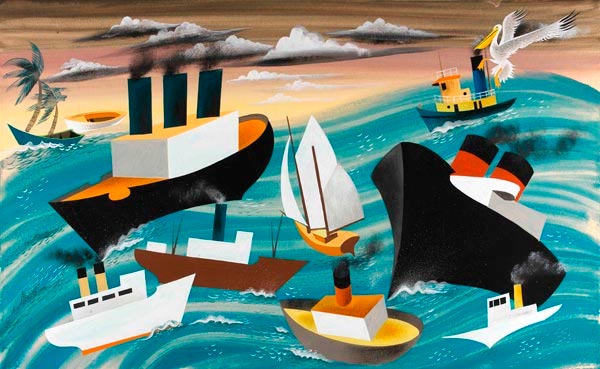 Pelican Here, Pelican There by Leonard Weisgard, Charles Scribner's Sons, 1948
We've created this website to share the artwork and achievements of our father Leonard Weisgard, author and illustrator of over 200 children's books.
Enjoy! Leonard Weisgard: A World of Illustration.
---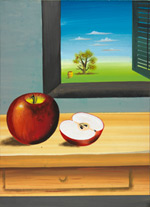 Magician of the Modern: The Art of Leonard Weisgard
Celebrating Leonard Weisgard's centennial
March 8 – June 5, 2016
Curated by Ellen Keiter and Leonard Marcus
"Leonard Weisgard (1916–2000) was an award-wining illustrator of over 200 children's books. He is perhaps best remembered for his productive collaboration with author Margaret Wise Brown, beginning with their popular Noisy Books series (1939). Influenced by both mid-century modernism and American folk art, Weisgard incorporated different media—gouache, poster paint, crayon, chalk, decoupage, stenciling, and pen and ink—to create a new kind of children's book." See www.carlemuseum.org
---
Whale's Way and Penguin's Way have been republished
by The Bodleian Library!
We are so honoured and excited about these two books republished by The Bodleian Library Oxford University. See them here:   See Penguin's Way here>>
See Whale's Way here>>
An on-line review from  "Books in my House"  (Blog post Tuesday 11th August 2015)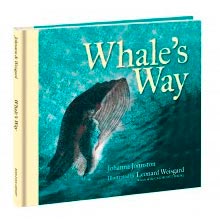 "Johanna Johnston was a renowned children's author based in the USA. She also wrote scripts for radio, including for the long-running children's series Let's Pretend, as well as children's stories, retellings of myths and children's history.
Leonard Weisgard was a Caldecott award-winning illustrator who published over 200 children's books. After studying illustration in New York he began a successful collaboration with the author Margaret Wise Brown as well as writing books of his own. He also worked with the American Library Association in the field of children's education" See more at The Bodleian Shop
---
Brave Baby Elephant – Piccolo Elefante Cresce
Brave Baby Elephant by Sesyle Joslin and illustrations by Leonard Weisgard was translated into Italian and has won the Andersen award in Italy for the best children's book in the category for 0-6 year olds May 2015.
Orecchio Acerbo  2015
Orecchio Acerbo Publishing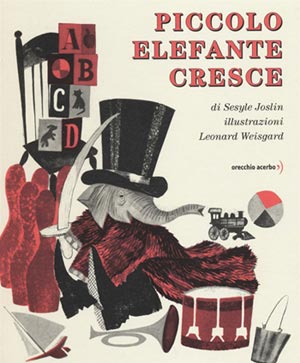 ---
The British Library has an exhibition celebrating Alice in Wonderland's 150th anniversary.
Leonard Weisgard's 1949 edition is included in the show. The exhibition runs until April 2016.